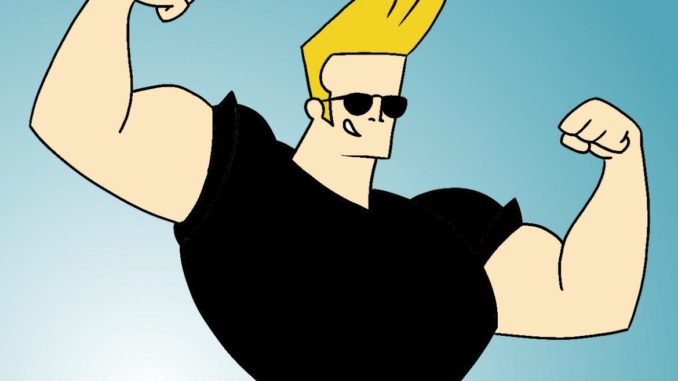 JOHNNY BRAVO
Johnny Bravo is a muscular dude with an insane hairstyle who lives for his absurd obsession with women. This cartoon is hilarious, entertaining and helps guys with what not to say while picking up girls. Did you snow that the character, Johhny bravo was solely based on the long-gone American singer, Elvis Presley?  Johnny Bravo was always awesome back in the days and it still is.
ED EDD AND EDDY
Three clueless teenagers struggling with awkward challenges with regards to their teenage lives, these trios are completely numb on their ideas to impress girls and they never succeed in any of their plans to get positive attention from the other kids living in their neighbourhood.  And their sick obsession with jawbreakers is just unexplainable and their several attempts to get some always end up in complete tragedy. Ed is a simpleton, Ed's believes he's the major brains behind any of their operations but he is not and Eddy otherwise known as Double-D is the actual brains behind any of their operations.
DEXTER'S LAB
Another cartoon network classic. Dexter is a brief boy genius who's always occupied in his secret laboratory inventing weapons and machine whilst struggling to keep his over-the-edge cranky sister away from his lab and personal belongings. Isn't it ironic how his parents never actually found out about his lab with all the zapping and banging noises coming from it? This show could be watched 10 years from now and will still be funny.
COURAGE THE COWARDLY DOG
Courage is a sensitive and timid dog whose sense for danger is preposterously high. Courage lives with his two owners, Ustes and Muriel in the middle of nowhere and he is always desperate to protect them from the unseen horrors that occur around them. Although he is never appreciated by Ustes, Courage is fond of Uriel because of her caring nature unlike Ustes who would always angrily call him "Stupid dog". This cartoon is priceless art.
https://youtu.be/5IBzu1iyhBc
THE GRIM ADVENTURES OF BILLY & MANDY
Billy and Mandy challenge the grim to a limbo game and the grim loses and as a result of that, the grim has to be Billy and Mandy's friend for as long as they want and he even helps them get out of messes they may get their selves into. This show was dark humour for both kids and adults.
SAMURAI JACK
A psycho shape-shifting wizard, Aku, sends Samurai jack into an abnormal loop of time to the future, Now Samurai Jack must find a way to defeat Aku and go back to his normal time. This TV show is indeed thrilling and captivating.
THE CRAMP TWINS
Wayne and Lucien are twin brothers who have always hated each other since birth but have no other choice but to live together under the same roof enduring booby traps and curse words from each other.
KIDS NEXT DOOR
Five aggressive kids discover an unknown tree house where they meet to discuss strategies on how to skip school, avoid going to the dentist and several others. The story line is innovative and fun anytime, any day.
FOSTERS HOME FOR IMAGINARY FRIENDS
This cartoon is basically built on appreciating friendships, especially with kids. Kids would always go to the fosters home for imaginary friends to adopt a friend and there's always more than enough imaginary friend to go round for every child. Those were the days of awesome cartoons.
READ MORE: