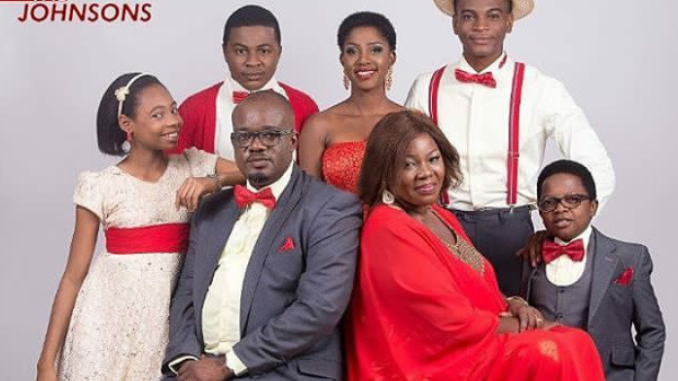 JENIFA'S DIARY
Like every other comic TV show, this TV show is really hilarious. It's entertaining, educative (in a weird sort of way not minding Jenifa's H-factored diction) and really engaging. Funke Akindele did an amazing job with this piece as she creates a mini platform containing our normal ways of life and how we struggle to separate right from wrong regarding various challenges we may go through as individuals from different societies. Plus her ability to contain such an accent for a long period of time is truly remarkable.
THE JOHNSONS
The Johnsons focus on the ways of life of a typical Nigerian family living in Lagos, their different personalities and their ability to tackle comical situations that are likely to occur from time to time. Lucky is the head of the family and he is always sensitive whenever money is involved, Tari is always getting himself and his siblings into trouble, Efe is the only normal brains in that family, Blessing is the youngest and the baby of the house, Jenifer is the eldest child, Spiff is Lucky's adopted son and he is never straight forward and some might say that their mother, Emu Johnson is a different nut case entirely. They're like every other normal family but the way they handle certain situations is what makes the show very interesting.
MY FLATMATES
This TV show has been on since the early 2000s and it just keeps getting better and better, although it had to take a long break before making a comeback. My flatmates is a comedy TV series about four friends who share an apartment and their hilarious daily encounters. The show is filled with hilarious comedians such as basket mouth, Buchi and so on.
SKINNY GIRL IN TRANSIT
This TV show centres more on Tiwa. Tiwa is a chubby and thick OAP who tries to balance her work out, career, relationships and mummy issues on a simple scale but it's not as easy as it seems. Thumbs up to all the cast and crew members for such an intriguing production.
SHUGA
Shuga is a healthy, entertaining and educative TV show that is aimed at helping young adults and individuals with various matters regarding HIV, safe sex, family planning, teen pregnancy and so on. It is a must-watch for everybody.