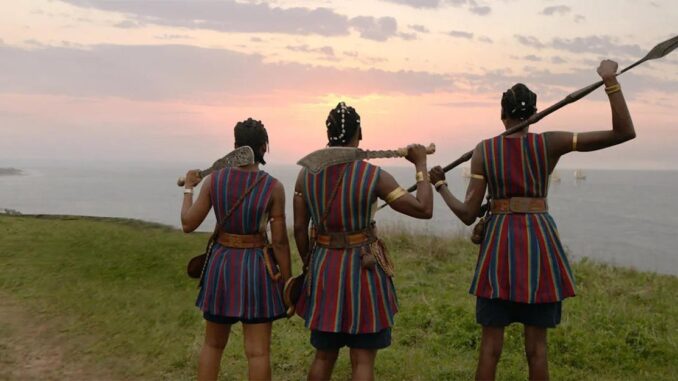 Is The Woman King worth watching?
I remember how I felt after watching Amina: a movie about the woman warrior that I'd read about while trying to understand why Nigerian University Halls were named after her and others like Queen Idia. While reading her abridged story online, I felt a sense of pride knowing that we had such a warrior and commander once upon a time in this country.
The movie, on the other hand, was a far cry from what I had read and chipped at the pedestal I had built of Queen Amina in my mind.
Enter the depiction of the Dahomey Warriors of the early Yoruba Empire when slave trade was rampant: The Woman King.
A movie that ended with me feeling an overdue sense of pride at being Nigerian and watching our women fight back against oppression and slavery both against our own kinsmen and the greater European threat.. 
Directed by Gina Prince-Bythewood, The Woman King is an epic film about the Agojie, the all-female warrior unit who protected the West African kingdom of Dahomey during the 17th to 19th centuries.
I went into the screening hall expecting much from the ensemble cast of Viola Davis, John Boyega, and Lashana Lynch, and I got way more than I bargained for. Their acting felt so real, almost like this movie had been one they'd been waiting all their careers to play.
It felt like a love letter to our western ancestors who were beaten, taken in chains, or shipwrecked at sea, and our eastern ancestors who chose to drown because they knew death was better than becoming slaves.
The fluctuations in accent was gotten as expected, save for John Boyega, who drew heavily from his roots to play the role of a Nigerian King. From the mannerisms, "jara" and local ad libs that Nigerians are known for, he portrayed them all excellently.
This doesn't take anything away from Viola Davis' acting as Nanisca, the leader of the Agojie, who commanded every scene whether she was swinging her heavy cutlass in battle or sitting stoically without uttering a single word.
Nor does it take away from Lashana Lynch, who played the comic relief in a typical yoruba fashion. Assuming the role of an elder sister that effortlessly danced between teasing her younger ones lovingly and protecting her kingdom fiercely as the story progressed.
Ugandan Sheila Atim and South African Thuso Mbedu regularly stood out also with their own complete arcs to support the overall story progression.
The film's progression was excellently done because it focused on the overall picture and let all the main and side characters' respective arcs become the sweet nectar that filled up the bottle for everyone to drink to their fill.
At many points during the story, you forget that Nanisca is the main character because most characters had complete arcs of their own and that is one of the things that made Nollywood actor, Jimmy Odukoya, stand out as the villain.
The Woman King focused on the overall negative of slave trade and made Jimmy's Oba Ade a representation of the home soil vessels that aided it for their own gain. So the movie didn't focus on him much, but you couldn't help but remember that he was a constant threat. And this was also largely thanks to him owning every scene he was in.
There's much to say about the directing and cinematography, with powerful shots, angles, and inserts that not only filled openings that would have otherwise become gaping plot holes, but also made the story more grounded, relatable, and too real to the extent that you can almost reach out and grab the feelings the movie was trying to convey.
If I can borrow the words of popular musician Olamide, I'll say that everything was a hit back to back; acting, set design, plot progression, plot twists, musical composition and OSTs, stunt and battle scenes, costumes, production, directing, etc.
Is The Woman King worth watching? Yes it is. It gets an A+.