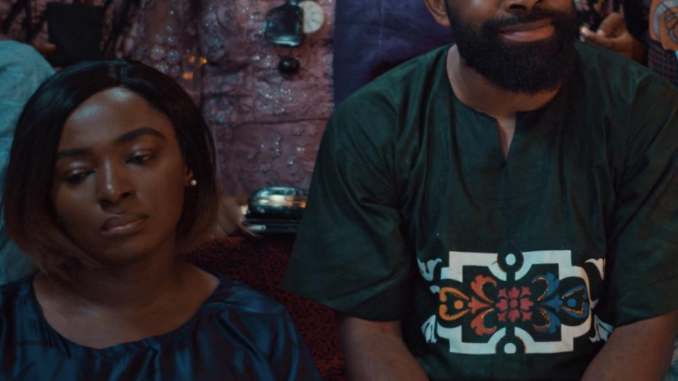 There are a lot of movies that go heavy on the dialogue without conveying anything substantial at the end, while there are others that focus on the simple things; silence, facial expressions and body language, to convey a hurricane of powerful messages. 
For Maria Ebun Pataki deserves a throne in the latter for its sheer brilliance at conveying so much with so little.
Directed by Damilola Orimogunje, For Maria Ebun Pataki is a story about a mother suffering from postpartum depression, which makes her withdraw from her husband, child, and everyone around her.
If there is one thing I need to commend off the bat, it is how intentional the movie was. Everything; from the subtlest gestures characters made, to the tone/progression of the whole movie was too intentional.
It felt like millions of people's real-life stories were being told through the deafening silence and absent-minded stares.
For Maria Ebun Pataki is one of those movies you find yourself watching and slowly coming to the realisation that one doesn't have to go through postpartum depression, nor need to have any prior knowledge of it to fully understand the reality of it and how damaging it can be.
I'd sound like a broken record again talking about how Gabriel Afolayan is one of the few gems we have in this industry, so I want to focus on Meg Otanwa.
There was something about her acting that made me almost tremble at different points in the movie because of how beautifully Meg acted in her scenes. 
It was a performance so good, it stretched to both ends of the spectrum; so beautiful seeing such an intense level of acting, and also so terrifying when you realise that she was only acting.
I spoke about how intentional the movie was and this is one thing I commend director Damilola for. You could see the disconnect between Derin (Meg Otanwa) and her family grow with each scene, especially in the easy-to-miss things like how she held her child or acted around people that she was once close to.
The only thing I found a bit off was the ending. I had mixed feelings about it because, for some reason, I'd hoped for a different one. It's not that the ending was bad, I just wish it had passed a different message.
Regardless, I believe it was one borne out of the need to further drive conversations and raise awareness about postpartum depression.
Simple gestures evoking complex reactions, a story that we hear about on a surface level with a deep depiction of the seriousness of it all, and a gentle dive into an ocean of powerful messaging on the possible after-effects of childbirth (depending on how you feel about the ending,)… For Maria Ebun Pataki shines through with all these and more.
Is the movie worth watching? Yes, it really is.