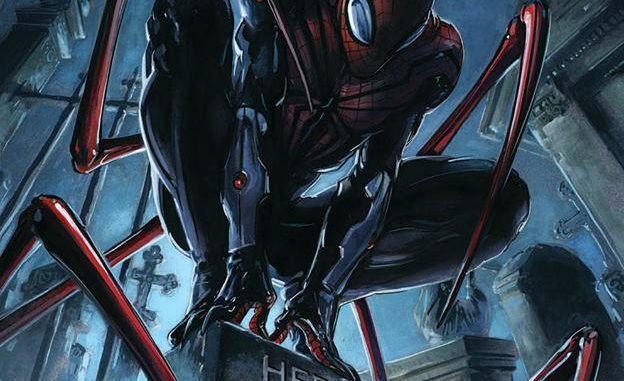 https://www.youtube.com/watch?v=8ZF1JvYKnHY
When Nick Fury was recreated for Marvel's "Ultimate universe" in 2000, creators Mark Millar and Bryan Hitch deliberately modelled the traditionally white character on Samuel L. Jackson. This led to Jackson eventually getting cast as Fury in the Marvel cinematic universe.
The Human Torch was not used in the '70s Fantastic Four cartoon because Universal Studios had licensed the character and blocked the use of him in the show, and not because the network was afraid children would light themselves on fire emulating the hero.
Marvel Comics was prohibited from featuring werewolves in comics by the Comics Code Authority from 1954 through 1971. This pushed Marvel creators to be more imaginative and resulted in the creation of Sauron, a character that's basically a were-pterodactyl with vampiric powers, in the pages of X-Men in 1969.
She-Hulk was created after Marvel learned of a plan to introduce a female Hulk in the popular Incredible Hulk tv series. They rushed the first issue of The Savage She-Hulk into production so they could hold the copyright and trademark.
Loki's first appearance in the Marvel Universe predates that of his brother Thor's first appearance by 13 years.
Rob Liefeld placed an ad for a comic called Executioners in the Comic Buyers Guide. It was a blatant rip-off of his own work on X-Force, which prompted Marvel to threaten legal action. Liefeld dropped the project entirely and ended up doing Youngblood instead.
Avengers writer Steve Englehart made a point of portraying Beast as a stoner in the '70s, though he was not allowed to make direct references to drugs. Englehart had the character portrayed reading Carlos Castaneda books and listening to Stevie Wonder, which was meant to convey that he was a "young, intellectual guy who'd gotten hip."
The X-Men character Dazzler was actually created to serve as a multi-media cross-promotion between Casablanca Records and Marvel Comics. She was originally planned to have a real-life equivalent with a record and a movie, but both ideas were dropped when disco started falling out of fashion.
Scott Lobdell became the main writer of the X-Men franchise because he happened to be in the right place at the right time when Chris Claremont's intended successor, John Byrne, quit after being asked to script an entire issue overnight. Lobdell, who was inexperienced and hungry for work, jumped at the opportunity.
Marvel got around a law that increases taxes on toys that resemble humans by claiming that X-Men figures were mutants, not humans.
Marvel is basically required to publish comics featuring someone, anyone, called Captain Marvel in order to hold on to the trademark. The first Captain Marvel was introduced in the late '60s when Marvel learned that DC was planning to revive Fawcett's Captain Marvel from the '40s, and could only hold on to the copyright if they were publishing a character with the name. When DC brought the character back, they ended up calling comics featuring him Shazam, since they couldn't use Captain Marvel as a title. (When DC rebooted its line of comics in 2011, they decided to just change the character's name to Shazam.)
When Todd McFarlane, Jim Lee, Rob Liefeld, and four other major Marvel artists left the company to form Image Comics in 1992, Marvel's stock price immediately dropped more than $11 per share.
Game of Thrones author George R.R. Martin regularly wrote in to Marvel's letter columns in the '60s.
Marvel had Cyclops and Jean Grey get married in the comics because they found out that the producers of X-Men: The Animated Series intended to have them wed in the show's second season.
Marvel continued to use Godzilla in the mid-'80s even though their license to publish comics featuring the character had expired.
And, of course, Captain America and Dr Strange were once in a band with Linda Rondstadt and C-3PO from Star Wars.