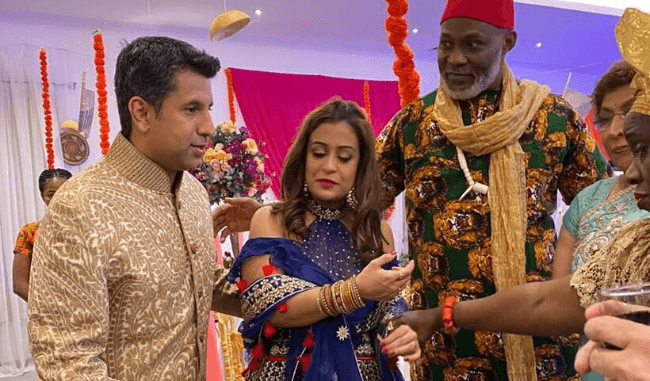 CHRISTMAS CAME EARLY THIS YEAR WITH "NAMASTE WAHALA"
So this out-of-the-blues nollywood/bollywood movie is coming out April and we're all totally psyched to see it. I have to say we didn't see this coming but something tells me it's going to be worth the shock.
We know what to expect from nollywood and also what to expect from bollywood but just imagine the result of the fantabulous collaboration of both nollywood and bollywood.
We should definitely expect double the drama, double the laughter, trouble, music and most importantly, romance. I can only imagine some hilarious scenes from this movie such as the reaction from the family of the bride over the dowry of the groom or inaccurate "gbese" from the groom's family.
The words, "Namaste Wahala" signifies two very different things; "Namaste" meaning I bow to you and "Wahala" meaning heavy trouble or problem according to us Nigerians. That explains the movie a lot.
Once upon time, Jay Ray (Hrithik Roshan) from the movie, "kites", said love knows no language and we keep seeing proof of that every single day of our various lives. The movie, "Namaste Wahala" is obviously no different from that theory. This love story is planted on the unusual counterparts of two very distant and different cultures but of course love always conquers the impossible even though the impossible seems outrageously "IMPOSSIBLE" especially in the case of these two lovebirds from India and Nigeria.
We can't help but control this unusual sugar rush the declaration of this movie has given to each and every one of us but there's not much we can do but allow the contents of our imaginations regarding this movie keep us company until the official release  date, 24th of April 2020.
Plus this movie better live up to standards and expectations so as not to shatter our various hopes and dreams because believe it or not, we Nigerians are very sensitive when it comes to matters of the heart. However, we're very confident that the movie, "Namaste Wahala" will not disappoint; besides the cast says it all and all we can say for now is they're doing well.