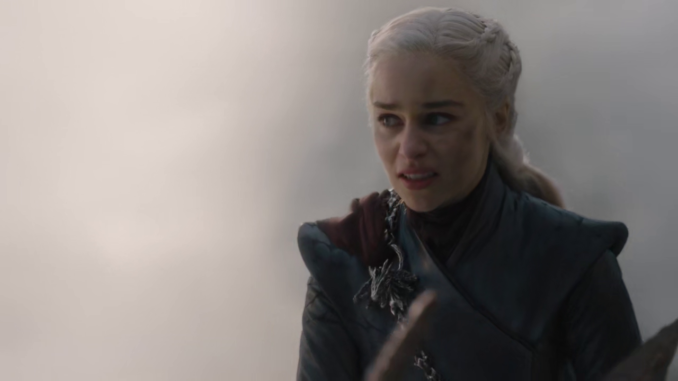 Game of Thrones' penultimate episode felt a bit lacking in a lot of ways. Sure they gave us the action we wanted and we got to feel the detrimental level of the devastation better than most apocalyptic scenes have ever given us, but in terms of the overall expectations, I wasn't all that surprised with the outcome, especially when most of the happenings in the episode had been teased since the seventh season.
**Warning: Spoilers for Game of Thrones Season 8 Episode 5 below**
The Mad Queen Rises
All hail the Mad Queen! Danaerys is known by many names; Mother of Dragons, Breaker of Chains and many more, but her decision to lay waste to Westeros and burn everything has now seen her live true to the dark side of being a Targaryen like her Father and Brother (Viserys) before her, by running mad.
Sure she's lost most of the people she's cared about including Jon Snow, who loves her but isn't really down for incest, her decision to take the lives of the innocents she swore to liberate is too rash a decision just to get back at Cersei for killing Missandei and the Lannisters for destroying her family.
Grey Worm's pain is understandable, so I don't really blame him for going along with her plans, but Danaerys let it get too personal for even Jon Snow and Sir Davos to stomach.
Stupidest Lannister
Tyrion Lannister started out as the cleverest Lannister on the show, but he slowly fell down the steep to become the dullest by the decisions he kept making. Yes, he has a good heart and wants to avoid bloodshed as much as possible, but he keeps trusting the "human nature" of people in the series and has totally forgotten how to play the game as he did in the beginning.
He kept believing Cersei would do right by her child and give up the throne and Dany lost Missandei and Viserion because of it and now in this episode, he believed that Dany would accept their surrender but instead, well, you saw what happened. And Varys warned him, but he didn't listen.
All to easy for Cersei
Since the very first episode of Game of Thrones, Cersei started by crippling Bran and went on to have a kill count that is almost as high (or probably higher than) Danaerys' current count. And of all the villains who had appeared on the show so far, the likes of Ramsey Bolton, High Sparrow and others, Cersei's death was ALL TOO EASY.
It felt like the writers wanted us to sympathise with her a little bit at the end, when we instead wanted gore, blood and for her to have a death that was a worthy repercussion of all the lives that she took.
Arya Stark's updated list?
Watching innocent people born is not something that Arya Stark ever wants to witness. She's lost a lot, and asides from Cersei and Dany, Arya is one female in the series that nobody wants to scorn. And now, Dany has scorned her and done it big.
Because of Dany, she almost died a lot of times, and even the people she tried to save all died. Yes, Arya was planning on killing Cersei from the beginning, but she never wanted innocent people to die, much less everyone in the city. I wonder what Arya will do now.
Aegon Targaryen, on the other hand, still couldn't believe what was happening right before his eyes. He never expected her to make such a rash decision and I truly wonder what her, Tyrion, and Sir Davos are going to do in the final episode.
The final episode of Game of Thrones will air on Sunday, May 19th, 2019. What did you think about this episode? Let me know your thoughts in the comment section below.