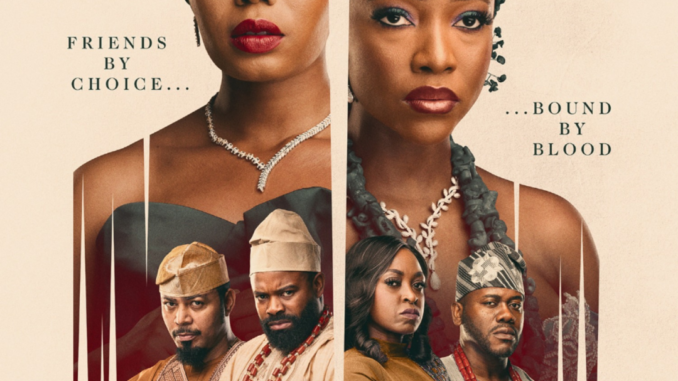 Directed by both Biyi Bandele and Kenneth Gyang, Blood Sisters is a limited series that tells the story of two best friends, who are forced to go on the run after a wealthy groom disappears during his engagement ceremony.
Most times, the feeling of "I have seen it all in Nollywood: the good, the bad, and the ugly" hit me, but in many ways, Blood Sisters proved me wrong by satisfying a craving I didn't know I had. 
I'm not ashamed to say that this is actually the first Nollywood series I wanted to rewatch immediately after the credits started rolling in the finale.
Blood Sisters left me wondering why we've not had many dramas/thrillers done as meticulously as this before.
Normally, I worry when a movie has an all-star cast because, a lot of the time, it ends up devoid of a substantially rich story, but in Blood Sisters, you could tell that the actors were cast because they perfectly suited the roles they played.
Every single one, from the main characters to those who had almost waka-pass roles, had their own individual personalities which helped them stand out to add more richness to the story.
From Ini Dima-Okojie and Nancy Isime, who were the heart of the story, Kate Henshaw who commanded scenes so powerfully, whether she was giving out orders, rebuking people or breaking down, to Ramsey Nouah whose silence screamed danger, every single cast member gave it their all and then some.
The costumes and makeup were out of this world and well thought out, and the musical scores accompanied each scene in perfect harmony, adding rhythm to the experience that you can't help but relish in.
Not one scene was out of place, no segway was unimportant, and every character had their own journey to undertake, conclusions to draw, and actions to take. 
Everything came full circle to give a closing scene that was as dramatic as the opening scene. A closing scene that made you ask the same "what happened" question you did at the beginning.
Yes, Blood Sisters had plot holes, but some played well into the experience or lack thereof of the characters during their different arcs in the story, while the others can be forgiven because of the sheer brilliance of the story and overall production.
Is blood Sisters worth watching? Yes, it is. I give it an A-.