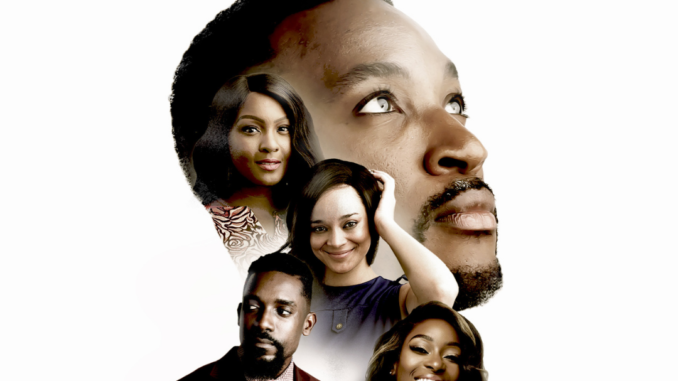 Directed by Bolanle Austen-Peters, Man of God stars Akah Nnani, Osas Ighodaro, Dorcas Shola Fapson, Atlanta Bridget Johnson, Mawuli Gavor, amongst others.
I want to start off by commending the effort put into this movie. It's one of those rare movies that could pass off as both a well-done stage play and a movie. 
I've always been a fan of how Bolanle Austen-Peters tries to fuse these two worlds together in her movies, but in the case of Man of God, the fact that it could pass off as a stage play was ultimately its own undoing.
In the performance aspect, the movie didn't hold back at all. The scenes which involved music performances and preachings were as flashy as possible to give you enough "wow" effect to forget thinking too deeply about what the story, message, and overall point of the movie were.
The cast also didn't slouch on giving us amazing performances to match the flashiness, costumes, and colour Man of God offered. And although there were times when the lip-synching was off and the scenes were flat, you would be so dazzled by everything you had seen so far, you'll not think too much of it.
I mentioned how this movie passing off as a stage play was its own undoing. In a stage play, you can get away with time skips that do not properly fill in the in-betweens and connections needed to tie previous scenes to future developments and characters to the story you are trying to tell. 
However, not doing that in a movie – which doesn't have the possibility of tying up loose ends/filing in the blanks like a TV series would,- is almost always a bad call.
In Man of God, the unanswered in-betweens and time skips were a lot, and it would be no fault of yours if you got lost at some point in the movie. 
And while the movie did its best to answer as much as it could before the end, the journey filled with different characters coming, going, and making decisions that would affect others even without their knowledge wasn't strong enough to keep people vested nor make these said characters matter at the end of the day.
But still, Man of God did well to be enjoyable enough to pass time. It shone where other movies failed, but also failed where other movies shone.
It's a good fusion of delightful acting, colourful performances and questionable time skips that don't help to drive home what would have been a much more compelling story of abuse, love, envy, crime, passion, and religion.
Is Man of God worth watching? I wouldn't say it's not. But it can raise a thought or two in you.