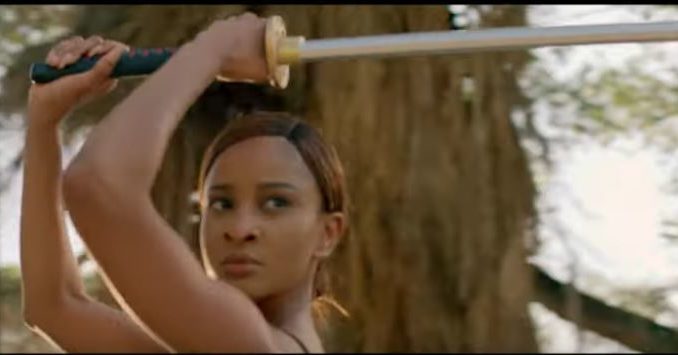 The holiday season is always the time to get a fill of cinema. The movie industry always comes with a bang each December bringing the best of movies to close the year.
Last December, movies like Mary Poppins Returns, Bird Box, The Nutcracker, Chief Daddy, Up North amongst others, made movie houses full to their brims and this December, there's a lineup of exciting movies to look out for.
If you are movie lover—which you surely are if you are reading this—you should see this movies this December.
This list comprises of the upcoming Nollywood and Hollywood movies to see this Christmas.
Starring Adesua Etomi in the lead role and directed by Kevin Nwankwo, Muna tells the story of revenge of a young spirited girl whose desire for a better life for herself and her grandmother leads her to being trafficked by her "uncle". It's story of vengeance, pain, and love. RELEASE DATE: Dec 6
The second sequel to the 1995 Jumanji comes to cinemas this December. Starring Dwayne Johnson, Kevin Hart, Jack Black and Karen Gillan from the 2017 movie, The Next Level sees Spencer going back into the fantastical world of Jumanji.
His pals Martha, Fridge and Bethany re-enter the game to bring him home. But everything about Jumanji is about to change, as they soon discover more obstacles and more dangers to overcome. RELEASE DATE: Dec 12
Who doesn't love a bit of comedy with politics on the side? This movie stars Akin Lewis, Funke Akindele-Bello, and it's coincidentally Funke Akindele's directorial debut. The Ebonylife movie tells the story of a bumbling, billionaire businessman and failed presidential candidate, who becomes a credible contender – all through the power of social media. RELEASE DATE: Dec 13
The season doesn't leave out a good taste of horror. A group of female students are stalked by a stranger during their Christmas break. This is the third loose remake of the 1974 film of the same name. RELEASE DATE: Dec 13
MERRY MEN 2: Another Mission
If you are a fan of the Merry Men, this one is for you. The Merry Men return in this sequel with Williams Uchemba joining in as the fifth Merry Man and also sees Alex Asogwa of BBNaija making her acting debut. Regina Daniels also joins the cast in this sequel. RELEASE DATE: Dec 20
https://www.youtube.com/watch?v=Y4AdIHSSwR0
The drama that comes with this one must not be missed. Directed by Jade Osiberu and Starring Adesua Etomi-Wellington, Bisola Aiyeola, and Bimbo Ademoye, Sugar Rush is full of laughter, and adventure as three friends find the huge sum of 800,000 US Dollars and are wanted by crime lords who lay claim to the sum. Nigerian Musician, D'banj makes his Nollywood debut in this film. RELEASE DATE: Dec 25 (Christmas Day)
https://www.youtube.com/watch?v=Y4AdIHSSwR0
From Academy Award winner Tom Hooper, director of Les Misérables and The King's Speech. Based on the legendary Andrew Lloyd Webber musical. Cats is scheduled for release on December 20
Ini Dima-Okojie plays the role of Amaka, a young Nigerian and Investment Banker, who has 30 days to secure a resident permit (kpali) in the UK or face the consequence which might include disappointment or deportation. Nkem Owoh, Ini Dima-Okojie, and Gloria Anozie-Young star in this Emem Ema's debut film. Release Date: Dec 20
STAR WARS: The Rise of Skywalker
Rey's journey continues and the Skywalker saga concludes in Star Wars: The Rise of Skywalker, coming. RELEASE DATE: Dec 20
Bombshell stars Charlize Theron, Nicole Kidman, and Margot Robbie, and is based upon several women at Fox News who set out to expose CEO Roger Ailes for sexual harassment. RELEASE DATE: Dec 13 
The film follows the lives of four sisters, Amy, Jo, Beth and Meg, as they come of age in America in the aftermath of the Civil War. Though all very different from each other, the March sisters stand by each other through difficult and changing times. RELEASE DATE: Dec 25
This war movie isn't left out this Christmas. It. Is the story of two British soldiers who embark on a dangerous mission to save 1,600 men from certain doom during World War I.   RELEASE DATE: Dec 25