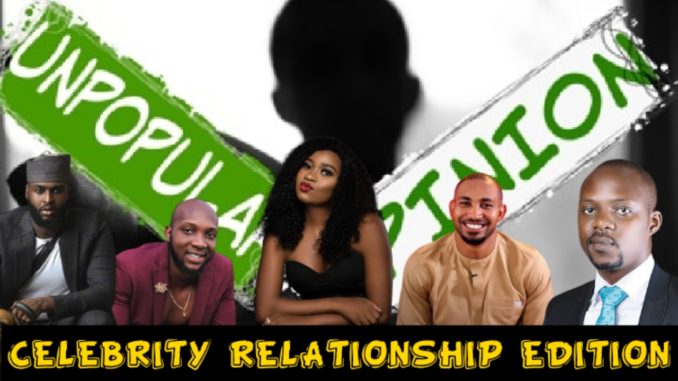 Former BBNaija housemates, Tuoyo, Thelma, Jeff, and Nelson, and entertainment lawyer Akinyemi Law, recently appeared on the latest edition of Unpopular Opinions with CinemaShed and gave relationship and sex advice that you actually do need to hear.
"Guys don't eat their girls enough" – Jeff said. Tuoyo, Thelma, and Akinyemi Law adviced ladies to start taking their men out often and chipping in to the financial responsibilities in a relationship. Thelma went on to tell men to spend money on their women to make them look good instead of lustfully staring at other girls, while Nelson told women to appreciate men more.
Watch Celebrity Unpopular Relationship Opinions ft Thelma, Jeff, Tuoyo, Nelson & Akinyemi Law below:
———————————————————
Wanna be on Unpopular Opinions? Make 1-minute videos on any (or all, if you can) of the topics below and send them to Cinemashedng@gmail.com
TOPICS
– Food – Films/Series – Religion
– Life – Relationship – Adulting
– Money – Science/Tech – Mental Health
– Family – School – Education
– Alcohol – Marijuana – Anime
– Games – Comics – Superheroes
– Porn – Sex – Friends
– (Any other topic that comes to your mind)
#relationship #bbnaija #youtubeng
——————————————–
Credits:
Edited by Miwan
CAST
Thelma – https://www.instagram.com/officialthelma_/
Tuoyo – https://www.instagram.com/itstuoyoofficial/
Nelson – https://www.instagram.com/nelsonallisonofficial/
Jeff – https://www.instagram.com/jeffbankz/
Akinyemi Law – https://www.instagram.com/akinyemilaw/
———————————————————-
Hi there, I'm Miwan from CinemaShed (as per uszh), and right here is the best destination to get unbiased film reviews, info about anime and comics, debates about fictional characters, and everything geeky in between.
I upload videos at least once a week.
———————————————
CINEMA SHED
Join Cinema Shed's Community – https://goo.gl/A4fVGc
Visit site: http://www.cinemashed.com
Facebook: http://www.facebook.com/cinemashedng
Twitter: http://www.twitter.com/cinemashedng
Instagram: https://www.instagram.com/cinemashed
————————————————
MIWAN
Twitter: https://twitter.com/_johnme_
Instagram: https://www.instagram.com/_johnme