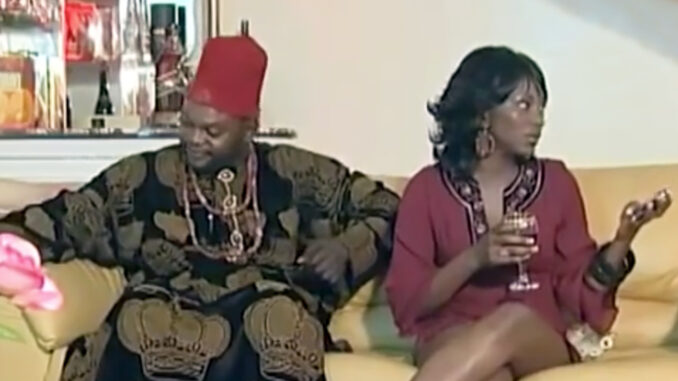 Here are eight Nollywood films and TV Series we would love to see a remake or reboot of. 
Silent Night (1996)
The 1996 movie was a hit with a cast of star veterans including Segun Arinze, Ramsey Nouah, Kaye Henshaw, Emeka Ike, Victoria Nyamah, Joke Silva and Alex Usifo. The movie earned Segun Arinze the household name, Black Arrow and is a movie that touches on the sensitive topics of Armed Robbery, Crime, Justice, Integrity and Family.
The first part is centred on Black Arrow and his gang of robbers and a rich kid, Stanley (Ramsey Nouah), the son of a High Court Judge (Alex Usifo) who joins them for want of excitement as opposed to his boring life at home. The Ajebutter as the gang nicknamed him gets himself into trouble when one of their robberies leads to the death of his own brother and ultimately, his comeuppance while the second part, follows through Black Arrow's new gang and the end of his criminal life.
We think Silent Night deserves modern screen time. Black Arrow's fierceness and ruthlessness deserve to be seen in this age and Stanley's costly mistake is a solid storyline for a good remake.
Died Wretched: Buried in a N2.5 million Casket (1998) 
 Chris (Tony Umez) at the verge of losing everything he owns and going to jail for an offence committed in his workplace seeks his uncle's, Oga Lucas' (Tom Njamanze), help to clear his name. When Chris makes it big, he abandons his uncle who has spent all his life earnings on clearing his name to suffer in penury.
When Oga Lucas dies, Chris throws a star burial costing a fortune and buried his uncle in a casket worth N2.5 million naira. From the title to the story, Died Wretched was a hit.
Checkmate (1991-1994)
The Lever Brothers sponsored show was a hit and it aired on NTA for three years. Created by the late Amaka Igwe, Checkmate tells the story of Ann Haatrope (Ego Nnamani Boyo) on her return to Lagos from America with her younger brother, Richie (Bob Manuel Udokwu) to meet their family business, Haatrope Investment, at the brink of collapse.
The collapse was due to their older brother, Benny's (Francis Agu) incompetence caused by alcoholism and sloth. Ann is determined to restore the family business. 
Checkmate is not only a good story but a solid production that was a hit back in the day. A reboot will definitely make a good TV series.
Fortunes (1993)
This show which lasted for only a year was later renamed Mega Fortunes. Being the show that brought veteran actor, Ramsey Nouah to our screens for the first time, it was the show of many.
Regina Askia, Liz Benson, Pat Attah, Lai Ashadele, Dolly Unachukwu among others also made up the cast of the movie. Fortunes was a people's soap opera 
Conspiracy (1999)
Conspiracy told the story of a madwoman, Grace (Onyeka Onwenu) who gave birth to twins, James and John. Starring Onyeka Onwenu, Charles Okafor, Larry Koldsweat and Nkem Owoh. The movie birthed the Onyeka Nwenu song, You and I as an original soundtrack for the production.
I Need to Know (1999-2002)
Sponsored by the United Nations Population Fund, the show aired on NTA and ITV among other major television and radio channels. The family-oriented television series starred Funke Akindele as Bisi, Uche Ejiogu as Ngozi, Taiwo Lesh as Hauwa and Amaka Egwuatu as Essien. It was an educational tv-series and can be related to the likes of modern-day, MTV Shuga. 
Ijele (1999)
Ijele (Sam Dede) only has eyes for his love, Oma (Genevieve Nnaji). When Oma falls sick, he travels into the evil forest, wrestling through spirits and crossing rivers just to find a cure for her.  A typical Stories my Mother told Me plot, Ijele was one of the most impressive films at the time, drawing emotions and glueing us to our screens. It is an epic movie worthy of a remake.  
Oracle (1999)
This movie scared the hell out of us growing up. I can recall the shivers. After three greedy friends still an artefact in a shrine, a spirit is unleashed and it is hell-bent on killing all the culprits. Oracle has a storyline that will make a good horror remake and give the chills and goosebumps of horrors. Horror lovers will definitely want to see this one.
Is there any other movie you'd love to see a remake/reboot of? Let's hear your thoughts in the comment section below.
This is a guest post by Ufuoma Bakporhe