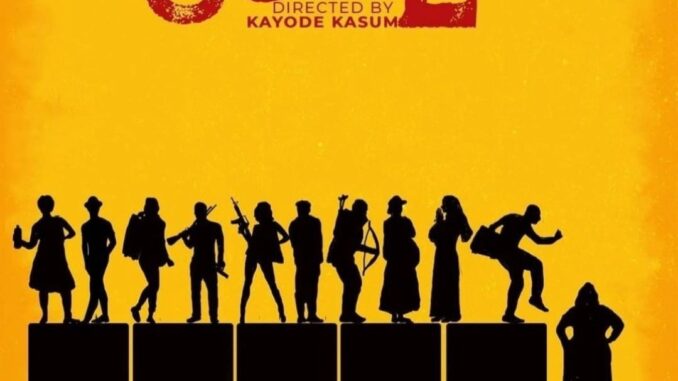 The first thing that comes to mind when you see the trailer of the movie, Soòlé, is comedy. Pure unadulterated comedy.

You really do not expect anything else, or anything more. Yes, you can tell that there are some dangers and twists lingering but you'd never see what it entails until you sit through the 100-minute movie.

Directed by Kayode Kasum, and produced by Adunni Ade, one commendable thing about this movie is the choice of cast and how everyone fits into their role.

From Shawn Faqua, the annoying yet interesting driver, to Gold Ikponwonsa, the typical on-the-bus hypocritical preacher to Femi Jacobs, the traditionalist and preacher's nemesis to Sola Sobowale, the supposed Christian mother, Lateef Adedimeji, Meg Otanwa, Teni Aladese, Mike Afolarin and Adunni Ade.

When the movie starts, you join the characters on their journey from Lagos to Enugu; you can't help but wonder what the story is, and who it is about or for. As it goes on, it slowly takes shape but this would need some patience as the movie metamorphoses through genres from Comedy to Action, back to Comedy, then to Thriller and back to Comedy again.
As promising and refreshing as Soòlé is, it takes its viewers on a bumpy ride (just as it does its characters) with gallops and potholes, to the end. The journey is not all pleasant but most of it is. With such a great cast and solid acting, there are points where the comedy seems forced, and you just want it to end.
The silver lining however is that at most parts, you'd find yourself laughing your insides out. Even more, you'd connect with each of the characters as they are everyday people you see or come across.
However, Soòlé takes too long to unveil its villains and the story around "the bag" does not seem realistic. The link between the villains, their business and the bag is also not clear. There are several questions left unanswered and a good number of unrealistic scenes that makes you roll your eye and say, "why?".
Regardless, Soole is a perfect reflection of society and the horrors that exist in it, especially in Nigeria. It tells how unsafe road travel can be in the country and the different kinds of "hustle" people get involved in to get by.

It exposes evils that go on and does not fail to emphasise the cliché, "Don't judge a book by its cover".

In all, Soòlé is a good watch, and it is a refreshing one too. You'd find yourself laughing all through and being surprised by the twists and the turns.
Would it take a while to enjoy the full substance of the movie between the elongated dialogues, the few unnatural lines and the unbelievable parts? Yes. Would it be worth it in the end? Yes.
P.S. Why did that last scene not come as after credits? At least that way, it would have a better explanation than what we are left with.