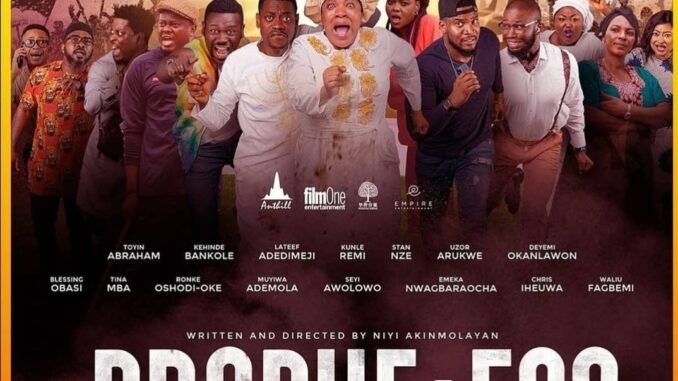 Prophetess follows the story of a prophetess, who unknowingly made a series of predictions that all came to pass, leading a whole town to stake a bet on her last prediction about how a team that is in relegation will beat one of the top teams in the league.
From start to finish, the movie was generally entertaining and I daresay that it is the most entertaining Nollywood movie I have watched so far this year.
The acting was really delightful, and I must say that it will almost feel like a sin if Kehinde Bankole doesn't get her coins for this movie. Toyin Abraham's acting was once again on another level, and this role, like Elevator Baby before this, feels like one that she was born to play.
The story was almost too good to be true. It didn't try to force any comedy or dwell on scenes that will elicit forced laughter or cringing from the audience, it did its job of entertaining you and taking you on a ride that included a lot of entertainment, a few emotional moments, and the right amount of suspense that makes you forget to breathe… All of this, topped off with the relatability made it an absolute delight to watch.
I'll say that the movie felt a little long and a little loud at times (typical agbero behaviour).
For a movie with a more or less simple storyline, it was well thought out and executed. From the depiction of life in that context, down to the soundtracks used for characters and scenes in the movie.
A cohesive, enjoyable and entertaining story. It may not be for everybody but I will say that you don't need to relate to it to enjoy it.
Is Prophetess worth watching? Yes, it definitely is.