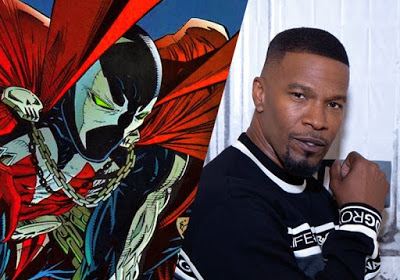 Popular anti-hero, Spawn, has for years been teased to be coming back to the big screen. After the success of both its animated movies and live-action movie made nearly/over a dozen years ago, another reboot – especially with the success of the Marvel Cinematic Universe and the advent of the DC Extended Universe – seemed too unavoidable.

According to The Hollywood Reporter, the new Spawn film will star Academy Award-winning actor Jamie Foxx as the lead.
Foxx and Spawn's creator, Todd McFarlane, reportedly had talks years ago about the pairing. Foxx recounts in a statement to various sites, "A few years back I flew out to Arizona to meet the man behind one of the most incredible comic book characters in the universe… Todd McFarlane. He was taken aback when I told him with the enthusiasm of a young child that more than anything I wanted to put my name in the hat to embody his beloved character Spawn…. I told him no one would work harder than me if given the opportunity… well… the opportunity is here!! I'm humbled and ready to transform… and to top things off the young Jason Blum is lending his brilliance to the project! Time to be great!!!! #Spawn."
Foxx will be playing Al Simmons, a CIA black ops member, who is betrayed by his team in a fiery death as well as in hell. After being sent to hell for his evil deeds on earth, he is given a chance to see his wife again as a Hellspawn warrior. But once back on earth, he's caught in a war between heaven and hell with angels hunting him down. His wife has also moved on and married his best friend.
Please follow and like us: