The official website for the My Hero Academia anime revealed the color designs for the new characters that will appear in the original video anime (OVA) that will bundle with the limited edition 14th volume of Kōhei Horikoshi's original manga.

Habuko Mongoose, Tsuyu's friend, voiced
by Maaya Uchida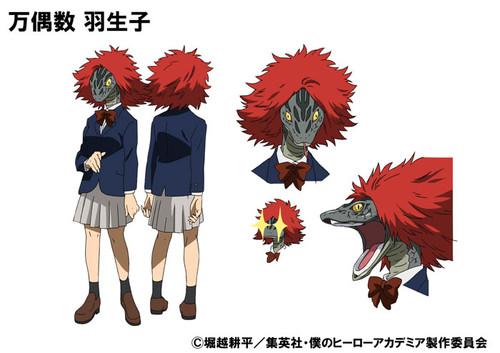 Romero Fujimi, voiced by Ryohei Kimura
Kashiko Sekigai
Kashiko Sekigai in hero form as Sensor Girl
Dadan Tadan
Dadan Tadan in costume as Lucky Strike
Horikoshi is himself in charge of the original story for the anime, and My Hero Academia TV anime scriptwriter Yousuke Kuroda is writing the script. The episode is titled "Training of the Dead," and Horikoshi is also drawing new character designs for new characters who will appear in the anime. The television anime's official website revealed the OVA's character designs in January.
The 25-minute anime centers on a joint practice session between Izuku's class and the other hero department students at U.A. Academy. The limited edition of the 14th volume will go on sale on June 2, and the pre-order period is between January 30 and April 3.
Please follow and like us: