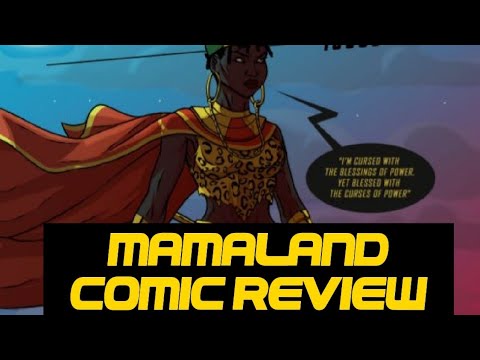 Mamaland is a comic created by Felix Milome and published by Milome Comics. It follows the life of Kerma, a warrior blessed and cursed with powers beyond anything the world has ever seen.
PLOT: In the Ancient African Kingdom of Taseti, lives Kerma; a young lady who wishes she was just a regular teenager. However, she has been eternally doomed with the power of a goddess since her birth, not only making her a threat to empires, but also supernatural beings.
——————————————————–
SUBSCRIBE – http://bit.ly/cinemashedYTsub
———————————————————
Credits:
Filmed by Miwan
Edited by Miwan
———————————————————-
Hi there, I'm Miwan from CinemaShed (as per uszh), and right here is the best destination to get unbiased film reviews, info about anime and comics, debates about fictional characters, and everything Geeky in between.
I upload videos at least once a week.
———————————————
CINEMA SHED
Join Cinema Shed's Community – https://goo.gl/A4fVGc
Visit site: http://www.cinemashed.com
Facebook: http://www.facebook.com/cinemashedng
Twitter: http://www.twitter.com/cinemashedng
Instagram: https://www.instagram.com/cinemashed
————————————————
MIWAN
Twitter: https://twitter.com/_johnme_
Instagram: https://www.instagram.com/_johnme